Deloitte's report to the Autonomy Audit Committee Q1 2011 clearly showing hardware sales as hardware, their amount, the fact that they are taken at a loss and the associated accounting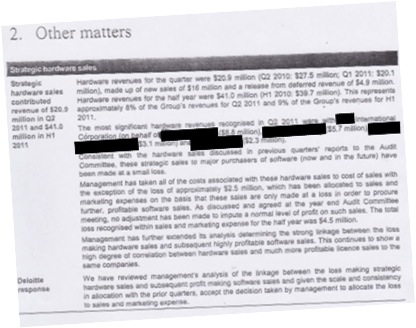 Deloitte's report to the Autonomy Audit Committee Q2 2011 clearly showing hardware sales as hardware, their amount, the fact that they are taken at a loss and the associated accounting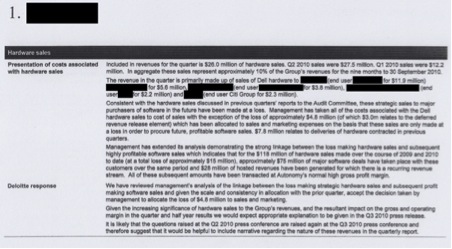 Deloitte's report to the Autonomy Audit Committee Q2 2010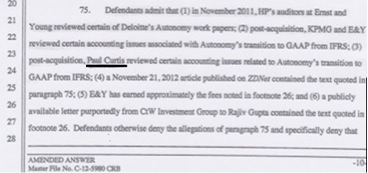 Extract from Hewlett Packard court filing in California 5 June 2014. Paul Curtis was HP's head of worldwide revenue recognition who scrutinised Autonomy's accounts without raising any issues.
Hardware booked as software?
On November 20th 2012, John Schultz made the statement that Autonomy had "booked hardware as software revenue." While this is clearly not the case from the Deloitte audit committee reports, it is also not true when one looks at the 'Trial Balance' (TB) or formal ledgers of the company recording all items bought and sold. In the excerpts from the Trial Balances below, you can see the entry line 470000 "hardware revenue" and the corresponding revenue. Line 570000 shows the cost of goods of hardware. Thus, it is clear that hardware is being booked as hardware, and not software and it shows the amounts involved.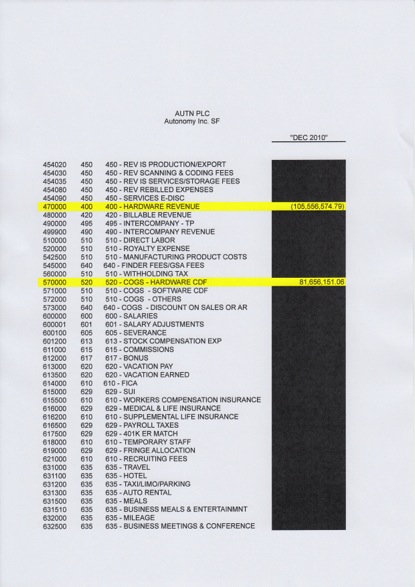 Ledger entry October 31, 2011 showing hardware bought and sold including cost of goods
Emails show senior HP accounting staff using this Trial Balance for many operations from November 2011 onwards. It was obvious to these staff members that Autonomy sold these amounts of hardware. Furthermore, these trial balances are also shown in a number of emails being used by KPMG taking on accounting work on behalf of HP.
Autonomy's hardware sales were also well known amongst the leadership team of HP. Dave Donatelli, at the time head of ESSN (Enterprise Software and Server Networking) and a member of the Executive Committee, was well aware of the resale of EMC and Dell hardware well before any whistleblower came forward and 10 months before the write down in November 2012.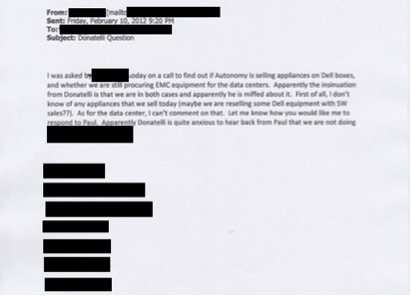 Email from Autonomy employee to HP employee showing Dave Donatelli, head of ESSN, had awareness of Autonomy hardware transactions.
It was also clearly known that Autonomy sometimes sold hardware to its customers at a loss for strategic reasons. Chris Yelland, who reported directly to Cathy Lesjak HP's CFO, was one of the most senior accountants in HP's software division. He sent an email on March 22, 2012 discussing payment to Dell for hardware explained as "hardware orders that we source from them and sell to our customers at a loss of 10%."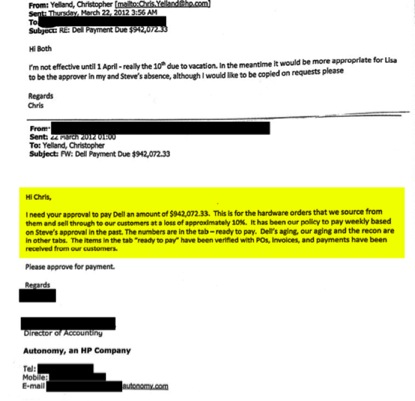 Email exchange dated March 2012 among HP employees showing they discussed Autonomy hardware transactions. Chris Yelland was a senior HP finance employee who was transferred to Autonomy in April 2012.
On 3rd May 2012, there is another email exchange between Mr Yelland and an employee that also makes explicit reference to hardware.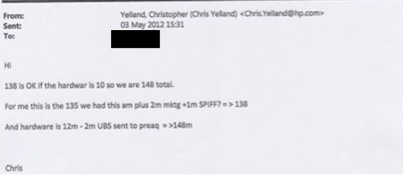 Email dated early May 2012 showing a senior HP accountant knew about, and was happy with, Autonomy hardware transactions.
Similarly, an email dated January 6, 2012 from Meeta Sunderwala, a senior member of HP's mergers and acquisitions accounting team, explicitly discusses Dell payables and explains that for many strategic accounts Autonomy procured hardware as well as software. There are many more such emails showing that senior HP staff were well aware of Autonomy's hardware business, how it was accounted and booked long before the alleged whistleblower came forward.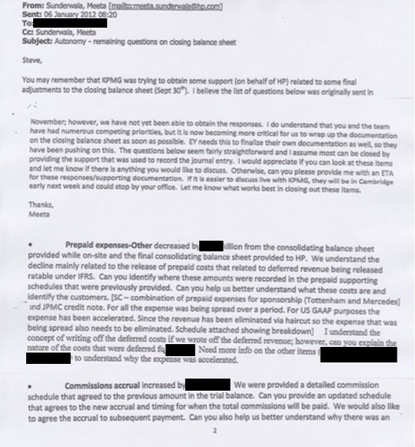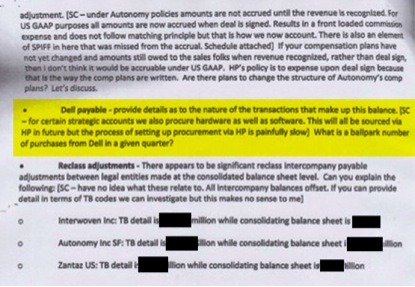 Email dated January 2012 showing a senior HP accountant was fully aware of Autonomy's hardware transactions.
In short, the above are just three examples from the many hundreds of documents showing that many senior HP staff and HP's advisors knew that the statement made by John Schultz on 20th November 2012 expressing surprise at Autonomy's hardware sales, at the fact that some of them were made at a loss, were untrue. They also show that these were not hidden from Autonomy's auditors and it is also untrue to say that they were booked as software. These documents show that HP lied about its knowledge of hardware sales and the associated accounting. It was well aware of the facts at some of the most senior levels of the company well before the "whistleblower" on May 25, 2012.
Autonomy valuation by HP included hardware
HP has said that one of the reasons for the write down in the value of the company was that it did not realize that hardware was being sold. The report filed on 5th September, however, shows clearly that it was well aware of hardware sales and it also shows that the valuation of the company included hardware.
"In the course of E&Y's exposure to Deloitte's work papers for the purpose of establishing an opening balance sheet…E&Y noted that Autonomy sold material quantities of hardware. E&Y reported its observation to HP management". (p57)
"The Autonomy purchase price allocation was prepared by Duff & Phelps. E&Y then audited that allocation were disclosed in HP's FY 2011 Report on Form 10K" (p57). The 10K was signed by HP directors on December 14 2011.
What this shows is that the value of the company at $11 billion fully included hardware sales therefore it is clear that six months later these same hardware sales cannot be used to justify a change in the valuation.
Economic Partners (EP) was a firm that HP employed to conduct a tax valuation of Autonomy. It included the hardware, and came out at $11.19 billion. This valuation was used for various statutory purposes, and was reviewed by HP and E&Y.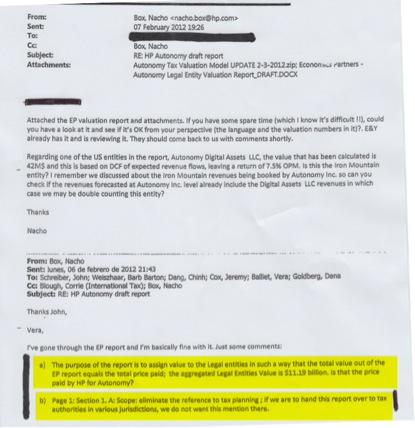 This email exchange from February 2012 shows that Economic Partners' third-party valuation of Autonomy, which included the hardware, was used by HP with tax authorities.
This filing on September 5th also shows that HP's basis for its valuation was built on discounted cashflow: "On September 13, 2011, Apotheker stated: "we have a pretty rigorous process inside HP that we follow for all of our acquisitions, which is a DCF-based model, and we try to take a very conservative view at this… we have and are running an extremely tight and very professional due diligence process…Autonomy is a publicly-traded company in the UK and they are, therefore, audited like any other FTSE company, and they're being audited on very professional standards." (p36).
From HP's re-filed Autonomy accounts for 2010 we see that they are in agreement that there has been no change in Autonomy's historic cash flows as a result of the allegations. The new information shows the that number which has been changed is HP's estimate of future prospects for the company, not its past accounting. The change in future prospects is dominated by the inability to deliver the synergies and the loss of most of the significant talent in the business due to the mismanagement.
Anatomy of the Deal
Long-Standing Target
This report shows that HP had been considering an acquisition of Autonomy as early as 2006 (p29) and had considered it a "[target] to be aggressively pursued" (p29).
That they had not done so until 2011 was largely due to Autonomy's value. It was Leo Apotheker who considered the acquisition of Autonomy to be "transformational opportunity" (p29), a "game-changer" that would be "financially accretive" for the company. HP's bankers also recommended the acquisition on the basis that Autonomy was "a crucial offensive move toward [HP's] strategic vision and that [HP] should pursue the acquisition expeditiously" (p30).
This belies HP's suggestion that Autonomy's management was desperate to offload the company.
Autonomy was not driving the sale to HP
In its September 5th filing, HP presented one email, dated 10 December 2010, out of 17.5 million emails without giving its context to imply that Autonomy was "in a financial plane crash" and thus a radical solution was to sell the business to HP.
This is completely misleading as the emails around this date show, and which HP did not disclose. Autonomy, far from being in a financial meltdown was ahead of targets and, just two weeks later, delivered record results with operating profits of $376 million. The use of this email, out of context, by HP was dishonest in the extreme. Autonomy was not in financial free-fall, nor did it consider selling the company a necessity. Qatalyst Partners, the bank that handled the sales process, was not engaged by Autonomy until June 2011. The email below, just four days later from HP's twisted version of events, shows that Autonomy's forecast was on track to exceed analyst expectations for the quarter.

This email shows that Autonomy was forecasting revenue of $252 million on 14 December 2010, which was in excess of analyst expectations for Q4 2010, which were set at $241 million.
Fear of Competitive Bids
In July 2011, HP's board granted its approval for the HP's management to proceed with its due diligence process, which new information shows followed standard market procedures. The data, according to KPMG, "were comparable to those available in other acquisitions involving large UK public companies" (P56) and "UK due diligence experts confirmed "access to due diligence materials reflected standard UK market practices for acquisitions of FTSE 100 Companies" (P56). HP's bankers had warned of "interloper interest" (p31), which were identified as "including IBM, Oracle, Google, EMC and SAP" (p31).
Deloitte
On 17 August, KPMG and HP held a "one-hour" call with Deloitte in which Autonomy's auditor responded to a series of questions about "revenue recognition, instances of fraud, control weaknesses, significant issues communicated to Autonomy's board, disagreements with management and unadjusted audit differences" (p32). This was the only conversation that took place with Deloitte in the due diligence process. KPMG considered there were "no material issues" as a result of this conversation, although they failed to update a draft report to the board that had been prepared on August 9. Just 24 hours after that call with Deloitte, HP publicly announced their intent to acquire Autonomy.
Announcement
Despite their thorough due diligence, when HP's shareholders reacted negatively to the announcements HP made in its Q3 earnings, "HP asked certain of its advisors whether HP could back out of the deal" (p10 HP amended answer 5 June 2014 court filing).
Shortly after the acquisition, and in panic mode, HP fired Leo Apotheker and Shane Robison, architects of the deal. With nobody left to sponsor the integration, is it any wonder, then that Cathy Lesjak's warning that HP "acquisitions did not meet performance expectations" were close to coming true?
The identity of the "whistleblower"
The document reveals that the "whistleblower" who met with HP's management almost a year later, on 25th May 2012, was "a legacy Autonomy US official" (p2). All of Autonomy's accounting books and accounting policies operated centrally in the UK office. We do not believe that Autonomy US had any qualified accountants employed at the time and certainly nobody with knowledge of IFRS.
Furthermore, we note from the document that the informant was commenting from a US GAAP perspective: "transaction involving Value Added Resellers that could pose questions under US Generally Accepted Accounting Principles" (p2). Autonomy reported under a different set of rules: International Financial Reporting Standards.
Conclusion
HP has consistently stated that Autonomy management sold hardware that HP did not know about and booked it as software. And that this was so well hidden that it was not known until the whistle blower came forward.
The above documents do not reflect these statements. Not only was the hardware clearly disclosed to the auditors, but the audit packs and related trial balance ledgers showing hardware were used by a large number of KPMG, HP E&Y accounting staff from day one without comment.
The new revelations also show the primary reason for the write down was HP's inability to deliver on recklessly optimistic synergies and its inability to deliver those, not accounting issues at Autonomy.
By using partial leaks, HP continues to try to duck these issues and avoid the errors of its mismanagement and the errors of its 20th November statement coming to light.
The full court filing can be found at:
http://www.scribd.com/doc/239402516/Addendum-to-HP-court-filing-09-04-2014
---